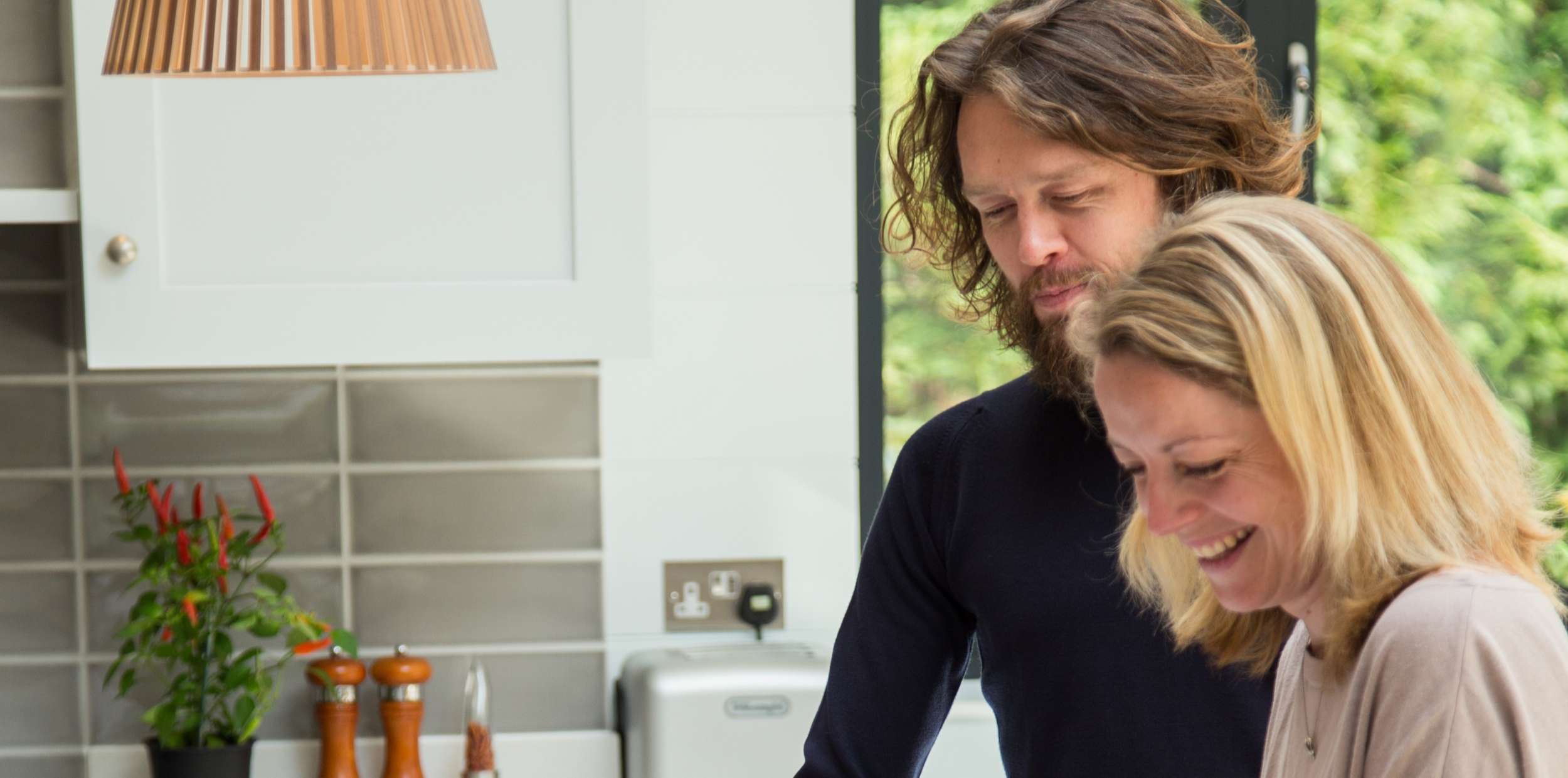 KIND WORDS FROM OUR CLIENTS
Nathan Kingsbury is a creative master. We have done 3 projects with Nathan: a main bedroom, a kid's bedroom and a kitchen diner. Nathan is a fantastic designer - he looks to understand your interests and how you'll use the space to create an aesthetically and functionally pleasing design. All 3 of our projects have the wow factor that comes with one of Nathan's creations, from the use of different materials and colours, and his eye for the unusual. I can recommend Nathan; he works hard and has come in on time and budget for our projects.
HANNAH & SIMON
KITCHEN | MAIN BEDROOM | CHILD'S WARDROBES - REIGATE, SURREY
Nathan created a wonderfully unique kitchen that was perfect for our apartment renovation and modernisation project. Blending a mixture of modern design, with a nod to Art Deco styling, it fully captured the style we were looking for and created a kitchen that was beautiful, yet highly functional, whilst adding an amazing wow factor to our home.
Nathan's attention to detail is fastidious and the quality and craftsmanship he produces are excellent. We would strongly recommend Nathan for any kitchen project and he's delightful to work with too. So much so, we have commissioned him once again to work on a second project creating another original, bespoke kitchen and bedroom design.
DEBORAH & JONATHAN
KITCHEN - REIGATE, SURREY
We have built our dream Kitchen AND dressing room. We were introduced to Nathan by my interior designer, Tracey Warman, whose vast experience, beautiful taste combined with extraordinarily high standards meant that we knew he would be the right choice. He came to our house and talked us through more detail than we imagined could be necessary. This felt so indulgent! He took the word 'bespoke' to another level.
On a practical level, our extremely old, hence wonky house must have been a huge challenge to measure and get perfect, but perfect it is. Nathan ensures the kitchen fits our longest utensil, and every gadget, precisely. Our dressing room has the exact amount of space I need for maxi dresses vs blouses, and delivers all of Chris's needs for his neat freak desires!
On a visual level, both rooms are exquisite; unique to us and utterly stunning. Every day we find a new detail of craftsmanship that exceeds our expectations. We tried to articulate style and colour desires, and he came up with precisely what we wanted.
On an emotional level, we felt like we were working with someone who cared about the finished product as much as we did. Having renovated a whole house, involving every kind of tradesman, Nathan stood out as operating in a different league. His approach is highly professional, and yet somehow, we felt like we were working with a friend we had known a long time.
SARAH & CHRIS
KITCHEN | DRESSING ROOM - WELWYN, HERTFORDSHIRE
The kitchen looks f****** epic and we both love it! Nathan's vision has really come to life and the thought put into it really shines through. We are amazed by his work. Nathan's attention to detail is impeccable and massively appreciated. The kitchen looks modern and chic. The lights look amazing; the cherries on the cake. We can't believe this kitchen is ours! We're going to have a big party just to show it off. We can't thank Nathan enough.
We are also extremely pleased with our bespoke dining table and sideboard. Nathan really brought our vision to life. We always felt involved in the process from the start. He drafted drawings and checked in with us throughout the construction and finishing stages. His artistic eye enabled us to get a piece that fits to our style and we are always getting comments on the furniture. The quality is second to none and the value for money is exceptional.
GLEN & MARSHA
KITCHEN | TABLE & BENCH SEATING | SIDEBOARD | BEDROOM FURNITURE - CLAPHAM, LONDON
We have worked with Nathan on a number of bespoke joinery projects in our London home: wardrobes and an extended side unit for clothes in the main bedroom and an imaginative toy and bookshelf for a young girl's bedroom. We are delighted with the final outcomes of each of these pieces - not just the quality but the functionality also, which is the result of the thoughtful design process we went through.
Nathan was able to take our briefs and to translate these into design options which we could then collaborate on together. In two instances we felt the initial design perfectly encapsulated what we wanted. In the other Nathan worked patiently with us on a number of subtle amendments until we landed on something we all felt worked best. A large part of his skill as a designer was his ability to understand our tastes and how the pieces would work, and then to guide us to designs that are aesthetic, practical and in the end beautifully realised.
It has been a pleasure working with Nathan. He gets our highest recommendation and we're already thinking about how we can work with him again soon.
DOMINIC & LAUREL
MAIN BEDROOM FURNITURE | CHILD'S TOY STORAGE & SHELVING - HAMPSTEAD, LONDON
Nathan Kingsbury is a 'one in a million' bespoke furniture maker and designer. In an age where customer service is often found to be lacking, be prepared to be surprised and delighted. Nathan's customer service is amazing. He listens to what you want, adds to the design process from his experience, changes things when you change your mind and then produces the most beautiful 'things' for you. The end result is stunning and just what I had hoped for. I cannot recommend Nathan and his team highly enough.
DIANA & JOHN
KITCHEN | DISPLAY UNIT & BOOKSHELVES | DRESSING ROOM | FITTED WARDROBES | BEDROOM FURNITURE - REIGATE, SURREY
The beautiful design and craftsmanship of our kitchen is of a standard one rarely sees nowadays with scrupulous attention to detail. Nathan went above and beyond to help us achieve the exact look we were after for our kitchen. He interpreted our ideas into something that has exceeded our expectation and has been unbelievably helpful and generous with his time throughout the process from design, construction, and beyond.
BETH & PHIL
KITCHEN - EAST SHEEN, LONDON
It's everything we wanted and more! 'Bespoke' is a commonly used phrase for kitchens and wardrobes these days, and so if you do want a unique and individual design that creates a cohesive space, that's been carefully thought through and meticulously crafted, then choose Nathan Kingsbury.
Nathan's background and years of experience means he can provide a holistic design service that looks at the space as a whole and so offers advice on palate, lighting and textures. Nathan's calm and thoughtful approach makes the design and installation process seamless and we've had a lot of laughs along the way. Nathan's currently working on another piece for us that is looking at recycling and sustainability...
COLETTE & STEVE
KITCHEN | UTILITY | DRESSING ROOM - REIGATE, SURREY
We are so pleased that our living room cabinets have been designed and made by Nathan. The quality is superior to anything I have seen before. Nathan has a real eye for detail, he listened carefully to what we wanted to achieve and meticulously planned the design so that the cabinets worked well in the room and suited our needs. Clearly a lot of care and thought goes into Nathan's work, he really wanted the end result to be perfect for us - and it was, he came up with ideas we had not previously thought of and the cabinets are truly bespoke.
Nathan also has good relationships with other trades (e.g. electrician) so together they ensured that everything was done and we did not need to worry about it. We did not feel like 'just another customer', an approach that you can sometimes get with mainstream companies. We really enjoyed the whole experience. I would not hesitate to recommend Nathan and we would love to work with him again for other projects.
CATHERINE & DAVID
LIVING ROOM FURNITURE - REIGATE, SURREY
Nathan made us a bespoke kitchen and was 100% reliable throughout the entire process. He is a perfectionist and leaves nothing to chance. The whole process of design and installation went perfectly - on time and budget - I wish that the whole renovation could have been so effortless! I love the fact that the units go right up to the ceiling, the hidden door to the utility room makes the kitchen look even more streamlined and all the personalised extras make it a dream to use and keep clean. Many of my friends have commented on the clever use of the corner space for the walk-in larder and I love the work top inside which leaves my other work tops clear and empty. Thanks for everything Nathan.
CHRISTINE & JIM
KITCHEN - COBHAM, SURREY
Nathan has completed a number of projects for us, including our kitchen, dressing room, shelving units and bar. The design-led approach has resulted in beautiful and unique spaces and features, which raise the standard of the entire rooms they are in, and which we enjoy immensely. The attention to detail is clear both in the craftsmanship of the build, and the service Nathan provides at every stage from planning to after care. We have ended up with practical but beautiful pieces of furniture that enhance our entire house. Thank you Nathan.
JANE & MARK
KITCHEN | DRESSING ROOM | BOOKSHELVES | HOME BAR - RICHMOND, LONDON
We can't recommend Nathan highly enough! He designed our kitchen down to the finest detail; cutlery drawers, paperwork cupboards, what would go where, how many plates did we have, certain drawers for certain things, where the plug sockets were going etc. He was happy to listen to all our questions and give ideas. The craftsmanship is stunning and precision is perfect. We now have the most beautiful kitchen and we're so glad that Nathan was recommended to us.
EMMA & SIMON
KITCHEN - RICHMOND, LONDON
The service Nathan provided from start to finish was exceptional. Nathan listened to my thoughts and came up with a number of ideas and plans, which ensured that the final design was exactly what I wanted. The quality of the build is exceptional and far superior to many of the well-known names on the market, the fitting was smooth and all work was completed on time, even including a few changes I requested which were dealt with the minimum of fuss. I would certainly recommend Nathan's work if you are looking for a high-end bespoke kitchen and would definitely use again on future projects.
SIMON & RACHEL
KITCHEN - FULHAM, LONDON
Nathan Kingsbury created two amazing bespoke TV shelving wall units for us with unique character, lighting and superb quality. Nathan is extremely easy to work with. He listens to what you want and then interprets that into thoughtful, sophisticated and high-quality design work with fantastic craftsmanship. I would highly recommend.
DANI & MICHAEL
BESPOKE TV & DISPLAY WALL UNITS - RICHMOND, LONDON
We are so pleased with the furniture that Nathan has designed and made for us. We wanted to completely revamp our living room to give a more contemporary look. We were quite vague as to how this could be achieved but Nathan thoughtfully interpreted our ideas and produced designs that were both modern and elegant. The finished pieces are simply stunning and the quality of materials used is superb. We would have no hesitation in recommending Nathan to others.
CAROLINE & CHRIS
LIVING ROOM FURNITURE - KINGSWOOD, SURREY
Nathan Kingsbury was highly recommended to me by some friends and I was very happy, in fact more than happy with the result of the work he did for me. He has original ideas, he is so professional and reliable, and everything was finished precisely on the given date of completion. But besides his own work, he was able to organise the moving of the burglar alarm, redoing lighting, having the carpets cleaned, having my boiler sorted... which to me was an absolute boon, as I am not around in London that much! I have to say it was such a stress-free experience, and I have not hesitated to recommend him to other people, who are as equally delighted with his work as I have been.
ZOE & MICHAEL
FITTED WARDROBES | DISPLAY UNIT | INTERIOR DECORATION - BELGRAVIA, MARYLEBONE & PROVENCE
Nathan designed and built a unit that is perfect for the proportions of my reception room.  I highly recommend him for the care he took to understand and deliver what I wanted, and for the quality of his work.
HILARY
TV & DISPLAY UNIT - PUTNEY, LONDON
We cannot recommend Nathan Kingsbury more - he created the most fantastic kitchen for our family of six. No detail was left out so that it not only looks good but also is very practical for our busy family life. In particular, I would like to highlight the immense after care we have received. Nathan has been very attentive and regularly comes back to make tweaks on the design to make elements work even better for us. We are quite simply delighted with the end result.
ANTONIA & RICHARD
KITCHEN - CLAPHAM, LONDON
We were introduced to Nathan approximately three years ago as an integral part of a team involved in a major renovation of our garden flat in north west London. His attention to detail and ability to work and coordination with our architects and tradesmen was first class. We were particularly pleased with his eye for detail and his ability to run his part of the project as we were living abroad and unable to participate in the day-to-day decisions. Thanks to him we have a bespoke kitchen that we are truly proud of.
DENNIS & KAREN
KITCHEN & LIVING SPACE - HAMPSTEAD, LONDON
One of the key reasons we decided to work with Nathan was his willingness and desire to create a kitchen that fitted in with and enhanced our ideas and brought the best out of the space. His attention to detail and flexibility to incorporate ideas into the design were excellent and we are delighted with the finished product. Clearly we were happy with his work as we followed up the kitchen with a dressing room, a TV unit and a study for good measure.
GEORGINA & EDWARD
KITCHEN | TV & DISPLAY UNIT | DRESSING ROOM | STUDY - GUILDFORD, SURREY
Nathan helped us design our perfect kitchen last year. He worked closely with us to refine his designs and drawings to meet our every need including cupboard and drawer sizes and placement, a hidden tea, coffee and toast station, a unique TV and fish tank unit, glass store and book case, window seat and finally the main feature - a huge multipurpose island. The quality of his work was incredible and was only bettered by his attention to detail. Nothing was left until it was perfect. He worked to our tight deadline and kept to the budget exactly. We would highly recommend Nathan to anyone looking for true craftsmanship coupled with a pleasant, polite and reliable style.
HELEN & STEVE
KITCHEN | TV & FISH TANK UNIT | WINDOW SEAT - TEDDINGTON, LONDON
Nathan's work transformed our home into a very practical but beautiful living space which the entire family enjoys being in. Nathan's approach is highly professional whilst remaining personal. He blends creativity and design-led thinking with a highly practical approach resulting in a fabulous space that works and looks very good. We enjoyed working with Nathan throughout the process and frequently recommend him to people who visit our home. Thanks Nathan!
RACHEL & ANDREW
KITCHEN & LIVING AREA | LIBRARY SHELVING - EAST SHEEN, LONDON
Nathan installed a kitchen, 2 wardrobes (one designed for a wheelchair user) and bathroom cupboards for us back in 2013. 8 years later it's great to find that he is still producing great designs and work as we needed to adapt the kitchen cupboards to accommodate a different sized fridge freezer. At the same time Nathan refreshed the kitchen. As ever he was reliable, tidy and efficient. In a day he transformed the kitchen and for the fraction of the price of a new kitchen has effectively given us a new one. Everything as good as new, fantastic and a joy! Thank you.
RACHEL & JOHN
KITCHEN | WARDROBES | CABINETS - CLAPHAM, LONDON
I would like to thank Nathan and his team for a brilliant job at Inside Out Health. Anyone who comes into our new shop, always comments on the great space, feel and style. A year on since the move it still looks amazing, which in part comes from the great structure of the shop itself but in no small part comes from the crux of the layout; the shelving. For a health food shop, shelving is key and this was the main focus in the planning. Nathan came up with a great idea to create moveable shelves in stainless steel with a birch ply frame, which allows for magnetised labels on the front - ingenious! They look amazing but, equally important, they are practical.
The work of Nathan and his team was as ever to a very high standard and I have bespoke shelving that will last, is practical and looks great, as well as a front counter and lovely units on wheels that are very cool and funky. I would certainly recommend Nathan and his team.
KATE
INTERIOR FOR INSIDE OUT HEALTH - REIGATE, SURREY
It's great working with Nathan Kingsbury and knowing the end result will always be a beautifully crafted product. I love Nathan's attention to detail, his creativeness, and the care and precision he takes in all of our projects.
TRACEY WARMAN
INTERIOR DESIGNER COLLABORATING ON PROJECTS IN EAST SHEEN, BARNES, RICHMOND & HER OWN KITCHEN
I like nothing better than knowing we can push the boundaries of an idea along similar thought patterns, then reel it back in to create a stunningly crafted yet workable design that will exceed the client's expectations every time.
JANE BATES
INTERIOR DESIGNER COLLABORATING ON PROJECTS IN REIGATE, WIDER SURREY & HER OWN HOME